The A300 dryfit now have exact and stronger replacements!
Exact case size replacement #'s are linked on the right.
Any queries? admin@sonnenschein.org
(Rated capacity defined as C20, 20 hr discharge to 1.75 V/cell) S = Flat contact for 4.8mm Faston Sockets *Also available for soldered connection
Features and Benefits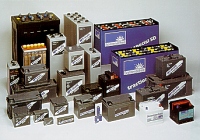 Sealed System: The Dryfit battery utilizes a totally sealed valve regulated system. There are no corrosive acid fumes or potential for electrolyte spillage under normal operating conditions.
Cycle Life: The Dryfit series includes batteries that offer outstanding deep cycle performance. The A200 series is designed to deliver 200 cycles at 100% depth of discharge per DIN and 400 cycles per IEC. The A300 Series is designed for 100/200 cycles per DIN/IEC.
Float Life: Both the Dryfit A200 and A300 are designed for 4-5 years of float service.
Low Self Discharge: The Dryfit series loses less than .1% of its rated capacity per day at 20 degrees Celsius ambient temperature.
Wide Temperature Range: Dryfit batteries will operate in temperature of negative 30 degrees Celsius to 50 degrees Celsius.
Simple Charging Method: Just one charging voltage for cycle or float service. No current limit needed.
Independence of Position: Dryfit batteries can be used in almost any position. The electrolyte is contained in a thixotropic gel which is injected under vacuum to surround the plates. Each cell is sealed with a one-way safety vent designed to release any excess gas. An upside down orientation is not recommended for float service.